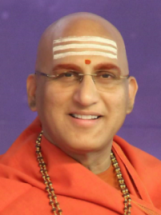 THE MAN AND THE MISSION
SWAMI AVDHESHANAND GIRI MAHARAJ is a distinguished and revered name for spiritual seekers. Possessing in-depth knowledge and profound understanding of the Indian scriptures, coupled with eloquence in speech, cheerful optimism and compassionate demeanor, the persona of H.H. Swamiji is synonymous with the very element of divinity. For the past several decades, H.H. Swami ji has zealously worked for the spiritual, social and intellectual development of mankind. He has made multitudinous contributions in various spheres.
Spiritual Head of the Largest Organization of saints : H.H. Swami ji is the Chief Spiritual Leader and Head of the largest and the most ancient order of saints in India – Shri Panchdasnam Juna Akhara. As the spiritual head of over a million saints, H.H. Swamiji has initiated more than a hundred thousand renunciates into the monastic order.
President, Hindu Dharma Acharya Sabha : H.H. Swami ji is currently the President of the Hindu Dharma Acharya Sabha (A Voice of Collective Hindu Consciousness), comprising prominent Indian spiritual leaders.
Deep-Rooted Respect for All Religions : 'The whole universe is one family' (Vasudhaiv Kutumbhakam) and there is one God - such is the belief of H.H.Swamiji who harbors immense respect for all the world's religions. H.H. Swamiji has participated in numerous Inter-Faith Dialogues, World Peace initiatives and International Conferences that have endeavored to bring together the different religions of the world on a universal platform with the common purpose of promoting peace and communal harmony.
Founder, Prabhu Premi Sangh : For H.H. Swami ji, spirituality is not confined to the personal efforts of an individual; it encompasses the entire global community. His mission is a unique and noble one – to link spirituality with social responsibility. As the Founder of 'Prabhu Premi Sangh' – a dynamic spiritual organization devoted to the welfare of mankind, H.H.Swamiji has been extensively engaged in diverse humanitarian efforts aimed at the upliftment of the global society.
Several education institutions have been established under His guidance, and numerous health initiatives such as mobile dispensaries and health clinics have been launched with His inspiration.
Visionary : Protection and sustenance of the environment being a key concern for H.H. Swami ji, He has undertaken special projects towards this cause. He has launched projects for rural development including water harvesting, cultivation of barren land and supplying drinking water to the masses. In an effort to increase awareness about the dying water resources, an 'International Water Parliament' was organized under the leadership of H.H. Swami ji, which drew active participation from scholars and researchers across the globe.
Philosopher, Thinker and Writer : H.H. Swami jiis adeptin the ancient scriptural texts, and is a Vedantic scholar, following primarily the philosophical tradition of Advaita Vedanta (the philosophy of non-dualism). H.H. Swamiji is a learned and prolific writer, having authored numerous books and written extensively on the various aspects of Indian spiritual philosophy. His discourses and lectures are regularly telecasted in several countries worldwide.
Awards and Accolades : H.H. Swami ji has been awarded an Honorary Doctorate in Literature. In addition, He has received numerous awards and been honored by several social and spiritual organizations for His outstanding contribution towards society.